S'More News
Beach Fire and Campfire Regulations
In celebration of the 100th birthday of the National Park Service, we'll be roasting this summer at Golden Gate National Recreation Area, California. Beautiful, with firepits for barbecuing and roasting marshmallows. And close to everything San Francisco! Here's a link to the rules for fires on the beach.
Beach Fire and Campfire Regulations
Bryce Canyon, October 2015
October at Bryce Canyon, Utah is a great place for a nice warm fire. We saw many families roasting marshmallows and hotdogs at their campsites. Mike and Bill knew just how to build a wonderful fire, which was especially needed in October at Bryce.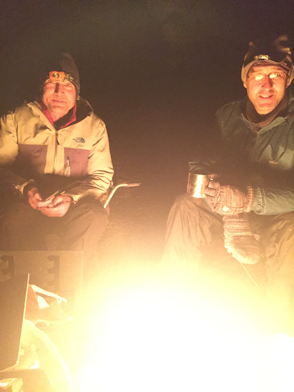 Mike and Bill around the fire at Bryce Canyon, October 2015

It was cold at Bryce Canyon in October, but the fire was warm and marshmallows don't care about the cold!
Fire Pits and Bonfires on California Beaches
Despite efforts to close California beaches to bonfires and firepits, there are still many places along the coast to roast marshmallows. CaliforniaBeaches.com provides us a Map to beaches allowing bonfires or having firepits.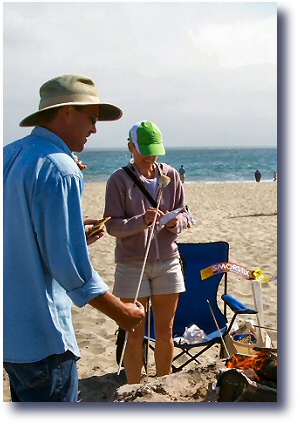 David and Sue roast marshmallows on Seabright Beach in Santa Cruz California. There are many other beaches along the beautiful California coast where you can get your roast on.
Newport Beach (CA) Fire Pits update
The Newport Beach City Council voted on January 13 to once again allow wood to be burned in some of the city's beach fire rings. This was a victory for marshmallow roasting families who for generations have enjoyed s'mores on the beaches of Southern California. Read about the new burning regulations here.
Roasting Marshmallow in Lava
From Yahoo News: Comes the story of volcano expert Simon Turner whose video of him using a tent pole to roast marshmallow over lava has gone viral. The crater is Marum crater in Ambrym, Vanuatu. Now I know where my next extended vacation for the NMR Institute will be!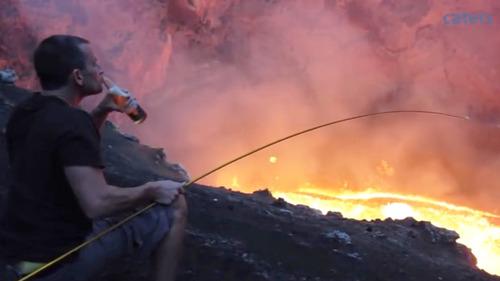 From Yahoo News: Simon Turner sits by an active lava lake to roast a marshmallow. (YouTube/CatersTV)
Point Reyes / Mendocino, October 2014
Once again, Jerry spent a week in October on the Northern California coast to ponder all things Mallow. He was joined by KR Grace, who heads up the Bexley Ohio chapter of the NMRI, and a couple other seasoned backpackers from Ohio and Utah. The fires were perfect for roasting at Vandamme Campground in Mendocino, but were not allowed at Coast camp in Point Reyes National Seashore.
The wine tasting at Mazzocco Winery in Healdsburg was wonderful. If you like Zinfandel, this is the place. Thank you especially to winemaker Antoine Favero for the tour!
Mr. Mallow and the Roasters went to the Bridge School Concert in Mountain View on Saturday, 25 October where old friends Neil Young, Brian Wilson, Florence and the Machine and Soundgarden put on a great benefit for the kids at the school. Joining Neil this year also was Tom Jones, Nora Jones and many others. Will Mr. Mallow and the Roasters join them on-stage one of these years? Perhaps.
Paris, May 2014
Our NMRI President was in Paris to taste-test and evaluate marshmallows in the City of Light. The French take their marshmallows seriously, often having mallow tastings and wine paring events that attract some of the biggest names in entertainment.
Jerry blogged his whole trip with links to photos and comments on his daily activities over the two weeks in France. The bulk of his stay consisted of playing clubs with the band (Mr. Mallow and the Roasters) and hanging in the 7e Arrondissement, Paris. But travel plans took him to the eastern France cities of Metz and Homecourt and to the coast of Normandy, where Jerry paid his respects at the American cemeteries and the D-day beaches.
Big Sur Roast, 2013
We had our second annual Big Sur Roast at Lime Kiln State Park the second week of October 13-18. What perfect weather and a great turnout! Vice President, NMRI Mallow Research & Development, Ken (KR) Grace from Bexley Ohio was on hand to guide our fellow roasters. KR is the organizer of the annual Bexley Ohio Mallow Fest and the Schiller Park Master Roasters Event in German Village Ohio.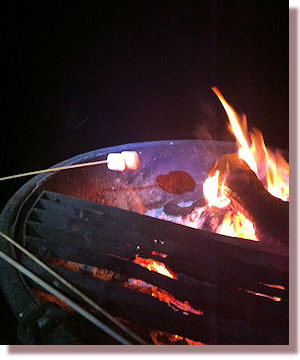 Roasting in Lime Kiln State Park, Big Sur, CA
Joining KR and Jerry (President, NMRI) were Bill Moore and Mike Burkley, two fine NMRI master roasters. As always, SmorStix were the roasting skewer of choice. Jerry had a quiver full of SmorStix for all roasters. This will be an annual October event!
California Fire Pits Threatened
Latest news from David Ruiz: The Air Quality Board has issued a restrictive new law that would call for all firepits which are located within 700 feet of homes to be removed...this would keep most of Huntington beaches intact, and force the removal of all Newport Beach Pits. The city says they are open to new ideas ( gas etc..etc..). So right now we are waiting to see where things go. More information at: http://www.savethefirepits.com
A new Gourmet Marshmallow to try!
The Juju Z. Treat Company is a recent find for us. And best of all, they sell their marshmallows online and in locations in and around Truckee California! I purchased a couple bags of the Milk Chocolate stuffed Vanilla Marshmallows right at Northstar Ski Resort January 1, 2013 after skiing the mountain. Tara reviews a fresh bag of these and we've posted Tara's review here.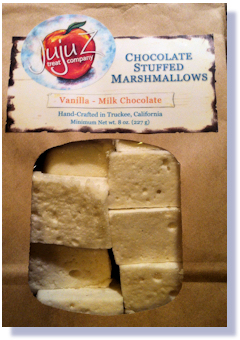 Subscribe to their newsletter and you are automatically entered to win gourmet marshmallow treats!
Thanks to Allison at SmorStix for giving us the heads up on these marshmallows!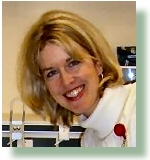 Tara's Mallow Reviews!
From time-to-time, our esteemed NMRI Public Information Officer and Media Specialist, Tara, reviews scrumptious Marshmallow Products.
Her reviews are for:
Chocolate Stuffed Marshmallows, Juju Z Treat Co.
Plush Puffs Orange-Honey Marshmallows
Whole Foods Vanilla Bean Marshmallows
Trader Joe's Dark Chocolate Minty Mallows
World Marshmallow Roasting Record!
The Guiness World Marshmallow Roasting Record was set earlier this year in Marion County, Kansas. Read all about it and what you'll have to do to beat this phenomenal record.
One of the top 25 quintessential things to do ...
In and around Boston, that is. The Boston Globe names the 'What the Fluff?' Fluff Festival one of the top 25 things to do in 2013. Let's plan on it!
Saturday, September 28, 2013 (Raindate Sunday, September 29)

3:00 pm to 7:00 pm

Union Square, Somerville, MA
Mt. Whitney Roast 2012
After 7 of 8 members of our climbing party scaled Mt. Whitney, we celebrated with a marshmallow roast.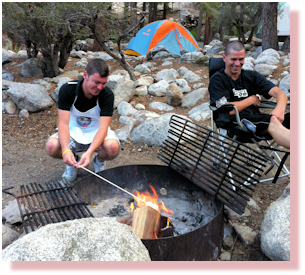 Jesse and Matt schooled us in proper roasting technique. And yes, both made it to the top of Mt. Whitney earlier that day, fueled by S'mores of course. (That's Jesse wearing the official Mr. Mallow apron)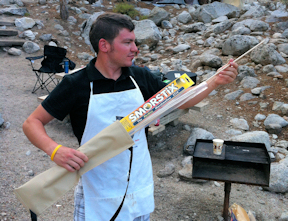 We love our SmorStix in the quiver!
---
Save the Fire Pits 2012 - We Did It !!!
(San Diego, CA)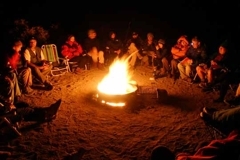 San Diego has announced that it will fund the fire pits in the next city budget. We are good for 2012-2013! Big thanks to all of the supporters of this San Diego tradition!
As reported by: http://www.savethefirepits.com/
Now we have a new challenge as also identified at the web site above.
---

The Candy Professor
The Candy Professor, Samira Kawash, PhD, provides the definitive write-up of a history of marshmallow roasting in Marshmallow Chronicles Part I and Part II. We certainly enjoyed the research and writing, and it makes us want to read about other candies and confections. Thank you, Professor!
---
Mallow Color Continuum
(Oslo, Norway)
The Roasted Mallow Color Continuum was revised in Oslo, March 3rd, 2011 by the European Order of the Mallow and the President, NMRI. Note the "OOPS" color that the judges have determined to be a valid color, owing to the fact that so many of our roasters really like that charred, flaming taste.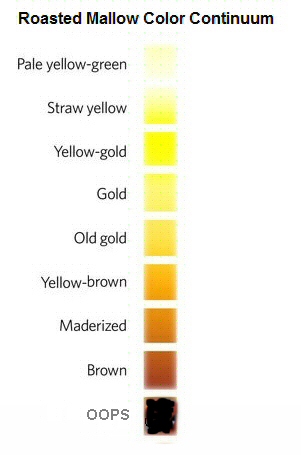 Caren Slaughter, our newest member from Folsom California, enjoys her mallows crispy with an abundance of ash. We know she'll be delighted at the latest update to the Mallow Color Continuum above.
---
The Marshmallow Guy
Ever wish you had a Marshmallow Roasting Machine? Well Gary, The Marshmallow Guy, has just that for your catered events!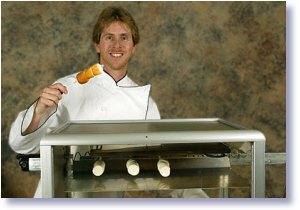 We may have to make Gary an honorary member of the National Marshmallow Roasters Institute. His is just the kind of 0utside-the-Graham Cracker-Box thinking we applaud!
---
S'more-tini anyone?
Our esteemed Professor of Mallow Lore and Director of Foreign Affairs, Nancy Karasevich, has perfected her latest adult beverage ... the S'more-tini. We'll be ordering this at our favorite Malibu California hangout after a hard day roasting on the beach. Join us at the
Sunset Restaurant & Beach Bar.
Wipe the rim of a chilled martini glass with a lemon slice. Gently place the rim of the glass down into a bed of finely crushed graham crackers. Remove from crushed graham crackers and set aside.

Shake 1 1/2 oz Effen Vodka in ice.
Pour gently into the martini glass, being carefull not to disturb the graham cracker crumbs on the edge.

Garnish with two mini-marshmallows above one Trader Joe's, or other fine French Chocolate Truffle on a martini skewer.

Enjoy ... and have S'more!
---
Giant S'mores!
(Welcome our newest members: Jake & Megan!)
We have to try this at our Sacramento Marshmallow Festival! Have you seen the giant Campfire marshmallows in your grocery stores?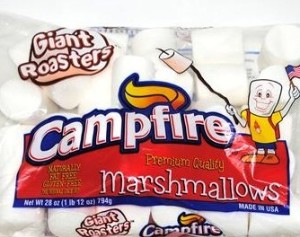 2" x 2" Giant Roasters
1. Place one whole Hershey's chocolate bar on a whole graham cracker.
2. Roast one of these giant roasters (on a SmorStix skewer).
3. Place the mallow on the Chocolate bar.
4. Cover with another whole graham cracker.
Mmmm..... S'mores!

---