"I had a dream last night I was eating a ten pound marshmallow. I woke up this morning and the pillow was gone." Tommy Cooper
Chocolate Stuffed Marshmallows by Juju Z Treat Company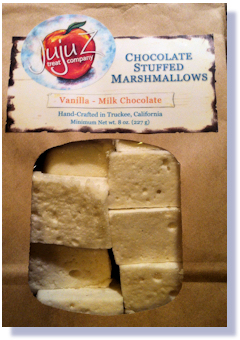 With the hustle and bustle of the holidays, roasting marshmallows is usually not on everybody's to-do list in December. With the holidays now over marshmallow roasting can still be a festive addition to any winter get-togethers, especially January football tailgate events, or a SuperBowl party. Weather permitting, everyone can bundle up and grab a roasting stick and some hot chocolate (or rum and eggnog for the adults) and roast some marshmallows over a nice hot firepit. If the weather isn't cooperating you can also roast over your stove burner. Make sure to start out on low heat, use a long roasting stick and an oven mitt if necessary. Have all your s'mores ingredients ready to go. Keep the mallow about 3-5 inches above the flame, turning constantly. And of course, keep small children away from an open gas flame or hot burner. Better yet, let the adults roast the mallows and the kids can assemble the s'mores. Now, there are folks who like to roast marshmallows in their fireplace, but I can't advocate that here…it sounds like an accident waiting to happen, especially if your mallow catches fire. And, using DuraFlame or other pressed-wood logs are definitely toxic for food products. So stay safe and roast responsibly!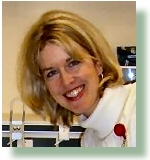 Once you've decided where to roast, why not try a twist on the traditional s'more by adding a sprinkle of crushed peppermint candy (from all those leftover candy canes), or a See's chocolate in place of Hershey's (bet you've got more than one box sitting around!)
I recently found a new gourmet marshmallow called Chocolate Stuffed Marshmallows by Juju Z Treat Company in Truckee, California. If you love gourmet mallows, these lovely treats are everything you would expect: tender chewiness, a dusting of powder on the exterior and a sweet surprise: a nice chunk of milk chocolate nestled inside the mallow just ready to melt. I tried these both roasted and right out of the bag. Roasted, they are fabulous, with the melted gooey chocolate melding with the equally gooey mallow into a chocolatey-white swirl…it was delicious! Smash it between two graham crackers and you have a winner. These mallows are equally tasty right out of the bag. They are pleasantly sweet, without any cloying processed sugariness, and just the right amount of chewiness. These sell for $11.75 for an 8 oz. bag (as purchased at Earthly Delights, at Northstar at Tahoe) or $10.95 online. There are more roasting tips and recipes on their website (www.jujuztreats.com). You'll find a link to them on our NMRI website.
So, this winter when the party is at your house, plan to roast some mallows. It's a festive way to bring a little bit of summer warmth into your winter gathering.
Tara
---
Plush Puffs Gourmet Marshmallows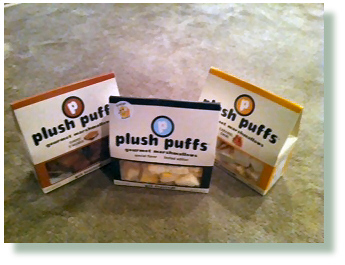 The friendly folks at Plush Puffs Gourmet Marshmallows have created yet another scrumptious temptation to their already delectable assortment. Those of you who are familiar with Plush Puffs know that these are not your ordinary mallows, but little creations of heavenly goodness using only fresh ingredients and yummy flavor combinations. On occasion, the company will produce "limited edition" special flavors and they recently released Strawberry Hibiscus, Maple Bacon and Orange Honey, the latter of which I sampled.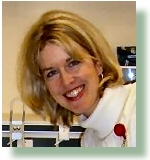 Alone, these are very sweet little mallows. The fresh honey and orange extracts are very pleasing; strong but not overpowering. I was curious if such a package of sweetness could be capable of even more delectability. So, brewing a cup of orange tea I dropped an Orange Honey mallow in and watched it melt. The flavor of the tea was nicely enhanced, its honey and orange melding into a very rich texture and leaving a foam on top of the tea, like the little cappuccino it was trying to be. These mallows roasted very well also. Traditionally sticky, gooey mallow tinged with orange and honey, with a nice caramelized outer coating. These mallows were a lot of fun. Try them in a s'more with a Ghiradelli orange-chocolate square? Lots of possibilities here!
Make sure and check Plush Puff's website for new limited edition mallows, as they tend to sell out quickly. I'm looking forward to the next batch of creations that Plush Puffs are crafting, constantly pushing the boundaries of ordinary marshmallows into gourmet delights.
Tara
---
Whole Foods All Natural Handcrafted Marshmallows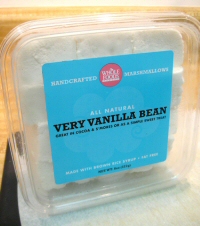 Since the dawn of time, man has been attempting to create the perfect marshmallow. For centuries, since Australopithicus roasted the first mallow, to now, man's palate has been trained to expect, as the perfect marshmallow, a concoction of corn syrup, malodextrin (beware of foods beginning with the prefix ~mal, your Latin teacher will tell you it won't end well), and artificial flavorings processed into a rounded shape we know as the Puffed Marshmallow. While there are many, many fine attributes to the Puffed Marshmallow, I do believe that we may be exiting the palate-limiting Dark Ages of Puffed Marshmallowness and dawning into a Mallow Renaissance of sorts, in terms of the types of gourmet marshmallows being not so much processed as they are crafted.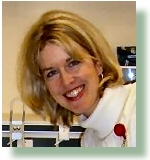 That in mind, this evening I had the pleasure to taste Whole Foods' contribution to the gourmet mallow, a hefty yet light cube of puffiness containing nary a drop of corn syrup or malodextrin, mind you. True to Whole Foods' commitment to quality and organic foods, this marshmallow manages to take brown rice syrup, organic glucose and vanilla beans (yes! the real deal) and create a very savory treat indeed.
Right out of the box, they offer up a sweet and pleasant aroma. Gently coaxing them from their carton one feels slight resistance, but a light dusting of powdered sugar allows them to give way easily. Despite their chunky size (1.5 x 1 inch) they are light, fluffy and simply sweet without a sticky or cloying aftertaste. This reviewer consumed three, all of which were perfectly satisfying. I also imagine that these mallows would work very well in recipes that call for marshmallows....I'm thinking of sweet potatoes at Thanksgiving. In fact, check out Whole Foods' website and their scrumptious Coconut Marshmallow Sweet Potatoes. How about Marshmallow Crispy Treats? The possibilities sound enticing....!
But the real mark of a mallow, and a Renaissance Mallow at that, is how well it roasts. One of the best attributes of said earlier Puffed Marshmallows is their remarkable and legendary roastability. Books, tweets and even websites have been created expounding on the virtuosities of the roasted mallow. To prove itself, the Whole Foods Handcrafted Marshmallow had to be born of fire, so to the fire (or alternate heat source) I went and this marshmallow did not disappoint. I was able to get a lightly caramelized coat with a lovely yellow-brown color. The mallow became slightly melted and gooey with a nice thickness in the middle. One caveat; lacking any type of artificial binders to hold it together, this mallow has the very real potential to melt and drop into said campfire. So have a plate at the ready and keep an eye on thy mallow.

All in all, a very nice treat.
For those of you in the Legal Profession, here are the particulars: 1 box is 8 oz, contains 12 mallows and sells for $5.99. 1 mallow is 50 calories, 12g of carbohydrates, 11g of sugar and 0g of total fat. They come in several other flavors and can be found in the bakery section of Whole Foods stores.
Tara
---
Trader Joe's Dark Chocolate Minty Mallows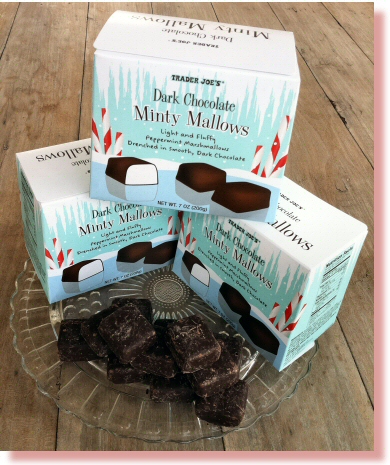 One of my favorite things around this time of year is to peruse Trader Joe's aisles for new and delectable treats. From Eggnog cookies to Old Fashioned Peppermint Bark, Trader Joe's always makes the holidays fun. So, I was particularly excited to notice new Dark Chocolate Minty Mallows nestled in the cookie aisle this year.
Suffice it to say I was glad to see any kind of marshmallow product return to Trader Joe's shelves since the discontinuation of their gourmet vanilla marshmallows several years ago. However, because they are holiday-themed, these delicious minty mallows probably won't be a year-round staple on the shelves.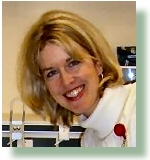 Wrapped in foil in a festive ice-blue and white holiday box, these lovely little mallows are dipped in a very tasty mint-flavored dark chocolate.
The chocolate is rich and crumbles nicely when bitten. The marshmallow is not as light and fluffy as the box states, rather it's more akin to the texture of Russell Stover marshmallow santas (or Easter bunnies) that you buy for 75 cents next the cash register at Walgreen's. However, this texture issue was not enough of a detraction to prevent me from consuming more. The marshmallow itself is not too sweet or cloying, and the chocolate leaves a very pleasant minty aftertaste. The box recommends them in hot chocolate, as smore's or just alone. Additionally, these little treats would be very festive item to bring to a holiday open-house, or other get together (just open a few boxes, combine with some cookies, a sprig of pine and voila', a last-minute plate that looks terrific for all of us last-minute sort of folks.)
Overall, I give these sweet mallows a 4 out of 5. (One point deducted for the marshmallow thickness issue) but that aside, I will be purchasing more of these in the near future.
Specifications:
Chocolate: Very rich and tasty (5 out of 5)
Mallow factor: A little thick, but not too sweet (4 out of 5)
Size: Larger than bite size, but not overwhelming (5 out of 5)
Price: $2.99 for a 7oz (200g) box (about 11 mallows) (5 out of 5)
Nutrition facts (seriously? Where are we, San Francisco? but okay here it is)
Serving size = 2 mallows (40g)
Calories 170
Total saturated fat 17% (3.5g)
Cholesterol 0%
Sodium 0%
Fiber 6% (1g)
Total carbohydrates 9% (28g)
Tara
For Roasting the perfect mallow!

Clean, safe, natural

The official roasting skewers of the National Marshmallow Roasters Institute and the Ligonier Marshmallow Festival in Ligonier, Indiana! Made of 100% untreated white birch without any additives, dirt or grime.

SMORSTIX are a generous 30" length to keep everybody at a safe distance from the fire.

Visit http://www.smorstix.com


The NMR Institute only uses the real thing - SmorStix

PlushPuffs a hit at the party!
(Sacramento, CA)

As we tweeted earlier, the PlushPuff gourmet marshmallows were a big hit at our party last Saturday. Our band, Mister Mallow and the Roasters, went for a sample between sets, but they were all gone. That's good news because now we'll just have to order more (and a separate stash for the band!) We enjoyed the Simply S'mores, Caramel Swirl, and Vanilla Bean marshmallows. You can order them too for your next gig at PlushPuffs.com.

Whole Foods S'mores Cupcakes Reviewed

While I waited at the bakery counter at Whole Foods to pick up my order for a dozen S'mores cupcakes, I perused the fine selection of other cupcake varieties. I also sampled the freshly baked donuts provided on the sampling plate. They brought out the box containing my cupcakes and they looked as scrumptious as the ones in the display case. So much so that I asked them to add three more to my order. I wanted to make sure there were enough for all the board members.



S'mores Cupcakes from Whole Foods bakery and
Dreyer's S'mores ice cream to boot!

(Review continued)

I complimented the baker on how great they looked. She said they had just finished them an hour before. I had been informed of these treats a few weeks ago by our Undersecretary to the President, who had tasted one at a party she had attended on behalf of the NMR Institute. She recommended a full NMR Institute review. So here are the results with some board member comments:

Service:
My order was ready on time. They had no problem adding 3 more to the order. Very businesslike. Not 5 star, but very good.
Presentation:
In the display case, they looked so good, I thought they must be fake. But when I looked in the box at my dozen cupcakes, I realized the ones on display were real! My mouth was watering.
Price:
I thought it was a very good price at just under $30 for these 15 custom cupcakes. They had said they had a bigger cupcake for $3.99 each, but the ones I ordered are the traditional sized cupcakes and just right with a scoop of Dreyers S'mores ice cream.
Taste:
After reviewing the comments of the other board members around the table, I must give these cupcakes our highest rating for taste, which includes texture and balance of sweetness. Some specific comments from board members:

Nancy: I like the juxtaposition of the mousse-like mallow with the moistness of the underlying cake. Great balance of texture.
Eric: The cake was not too rich and this is perfect with the chocolate icing on top of the cake and under the mallow.
Tara: The mallow is fully supported by the density of the cupcake. The mallow was not melting and running down the sides of the cupcake, as mallow is wont to do in this California sunshine, nor was it sliding off the top as I was expecting it to do. A fine culinary experience.

Overall, I must give the Whole Foods S'mores cupcakes a rating of 4.5 stars. And, as you know, we have never given a product a perfect 5 stars. We heartily recommend these for your next party. And do serve with Dreyer's S'mores ice cream.

Jerry Grinstead, President - National Marshmallow Roasters Institute




Sharon Cantillon/Buffalo News

Note: The Puff Girls Treat Factory
is always offering special treats for holidays. Order their orange mallows for Halloween! Orange you scared?


Niagara Living Magazine did a story (with Video!) on the Puff Girls for the May 4 issue. The Puff Girls make our favorite chocolate covered marshmallows for just plain eating. Mmmmm we love their S'mores marshmallows!
Watch the Video ... just like home made! And for more information about the Puff Girls or to order their scrumptious treats, visit their web site at www.puffgirlstreatfactory.com. We've tried their mallows for Mother's Day. They were the hit of the party. All the mothers in attendance shared their mallows with us. We'll definitely order more from them. Thank You, Robyn and Patty for the treats!




Check them out in Ligonier! Don't miss it for the world !!

A consistently good choice for every roast. After numerous taste tests, our judges were split evenly this year between Jet-Puffed and Campfire. Kraft Foods is providing the Jet-Puffed marshmallows at the Ligonier Indiana Marshmallow Festival Labor Day weekend. We look forward to their making the roasting and marshmallow games a complete success!

For a Perfect Roast!

Another Official Marshmallow of the National Marshmallow Roasters Institute. They brown evenly and melt lusciously. They've been around a long time because they are so good! Try not to eat the whole bag before you get to the roast! Mmmmm.

VIDEO - WMAQ TV in Chicago went behind the scenes in March 2008 to show us how Campfire Marshmallows are made. Here's a link to that video that also talks about the history of marshmallows: http://video.nbc5.com/player/?id=231572